The performance of your loan officers is crucial to the growth of your organisation, so we have created a new report to help you monitor their product performance.
Introducing Loan Officer Reports
Your loan officer's key responsibilities are likely to include:
Representing your brand in their interactions with your clients
Advising clients on the products that best match their requirements
Assessing whether the client can meet their repayment obligations
So our new report allows you to track how your loan officers are performing in these key areas.
The Loan Officer Product Analysis report summarises, for each loan officer, their date of joining, number of months onboard and their total loan portfolio.
It then sorts by product: a breakdown of their loan portfolio including the number of clients per product, the total amount by product and the delinquency amount by product.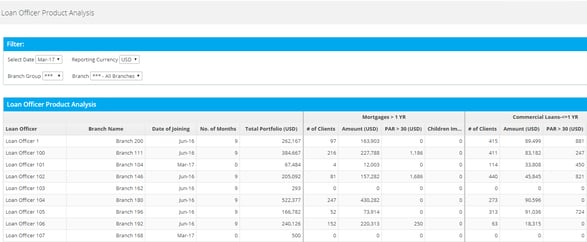 The report is filterable by region and branch, enabling you to analyse the performance of your organisation by location.
Request a Demo
If you would like to see how this report can provide insight into your financial institution, you can request a free demo here.