Financial performance management is one part of a balanced scorecard approach, facilitated by reports originating from the finance department. Once assembled, financial reports are presented to the senior management team, board of directors and interested stakeholders, enabling financial results to be measured, monitored and managed.
The Financial Performance Management Process
When simplified the process includes three core elements:
Planning and budgeting
Closing and reporting
Analysing and forecasting
It's a continuous process that cuts across different departments and is performed at varying degrees of efficiency, from largely manual spreadsheet processes to fully automated processes using specialist financial performance software applications.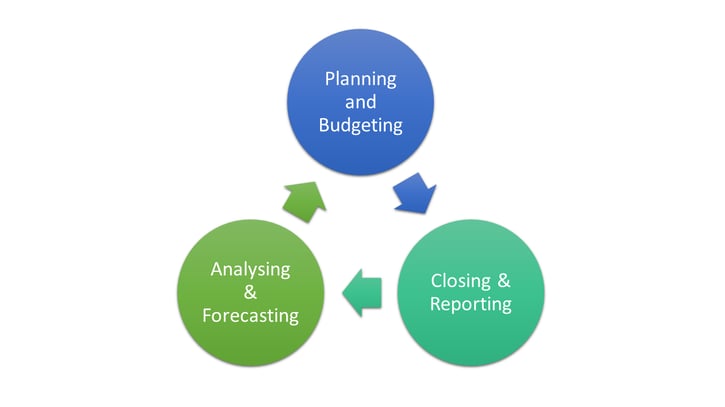 Planning and Budgeting
Planning and budgeting are usually associated with an annual strategic planning period to set the budgets for the year ahead.
Planning and budgeting are based upon what has happened historically and the realistic assumptions that can be made using this information in conjunction with the vision for the strategic direction of the organisation.
Closing and Reporting
Closing and reporting are the glue in the process. An efficient closing and reporting process enables accurate and trustworthy financial results to be analysed quickly and frequently.
The closing and reporting process is facilitated by the finance department and occurs monthly, quarterly and annually.
This is a decisive stage in the financial performance process because the quality and timeliness of the reports produced help to shape the opinion and predictions during the forecasting, planning and budgeting parts of the process.
Analysing and Forecasting
Analysing and forecasting happen throughout the year. When effective analysis is enabled it allows for changes to be made to the original budgets, which can help achieve incremental improvements to performance as the year progresses.
Financial performance can be a challenge, but with the help of intelligent analytics, it can be simplified.
Request a demo to find out what specialist financial performance software can do for your business.